We provide one-stop support for domestic and international business travel,
utilizing the strengths of two world-leading travel agencies
Bringing People,
Places and Possibilities
Together in a New Era

Business-to-Business-
for-Employees
(B2B4E)
travel management platform
A proven track record
Sales

164.2

billion yen

Customer satisfaction

95

%

Number of contracted clients

more than

3,000
Operation structure that demonstrates a high level of specialization
To realize attentive, high-quality service suited to our clients' needs, we establish specialized teams to ascertain each client's BTM adoption objectives and related details.
From reservation arrangements made by specialist international travel consultants with a thorough understanding of business-travel rules, through support for obtaining visas, passports, and other procedures, a 24-hour helpdesk available late at night and in emergencies, and helpdesks for online booking tools and business-travel management systems, our operation structure demonstrates JTB-CWT's high level of specialization.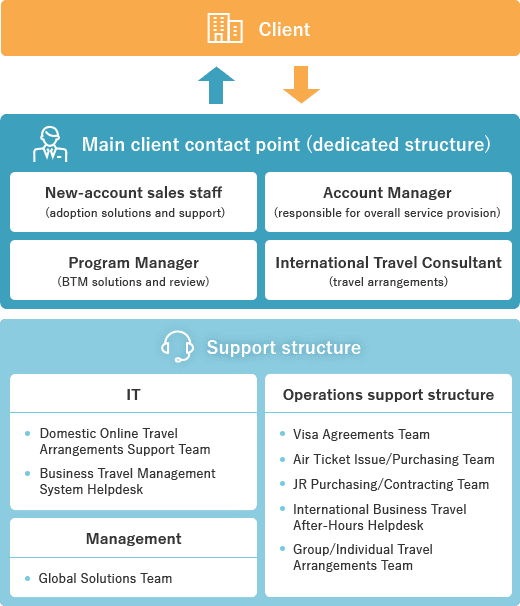 Highly experienced consulting abilities
Since its establishment in 2000, JTB-CWT has built trusted relationships with a diverse range of clients. We deliver advanced consulting backed by a wealth of experience and specialized knowledge built up through this Sales, together with reliable data.
We realize cost savings across all areas of business-travel-related expenses, by repeating the cycle of clearly identifying issues based on the visualization and analysis of business-travel data, formulating and reliably operating BTM programs targeted at making improvements, and measuring the results.