Information Security Policy
JTB Business Travel Solutions, Inc., (hereinafter called JTB-CWT) conducts business under the corporate philosophy: "We provide optimal solutions for business travel, support customer businesses in both Japan and overseas, and contribute to society by promoting active interaction between people."
In accordance with this, JTB-CWT carries out business to provide improved convenience for business travel and high quality solutions to customers, globally offering the best services that combine consulting and IT services with a high degree of professionalism.
In the belief that it is the corporate social responsibility of JTB-CWT to accommodate the demands of society for information security, JTB-CWT clarifies the roles and responsibility of each individual on information security, establishes an organizational structure where the information security management system functions well, defines the Information Security Policy herein, and implements the following in order to ensure security and maintain the confidentiality, availability, and integrity of information assets that JTB-CWT handles, as well as to provide safety and convenience to customers and others.
1.

JTB-CWT will establish and operate information security management that complies with ISO/IEC 27001(JIS Q 27001), and every individual who engages in JTB-CWT's business, including board members, will strictly comply with it.

2.

JTB-CWT will take rational preventive and corrective measures from a technical and organizational point of view against unauthorized access, loss, destruction, alteration, and leakage of the information assets JTB-CWT handles.

3.

Every individual who engages in JTB-CWT's business, including board members, will comply with this document, regulations on information security, applicable laws, and regulatory and contractual obligations.

4.

With the intention for every individual who engages in JTB-CWT's business, including board members, to understand the importance of information security, JTB-CWT will provide them with educational and training sessions on a regular basis to improve their awareness.

5.

JTB-CWT will check the implementation status and effectiveness of information security protection through periodic audits and improve and review them in a consistent manner.
Established: July 1, 2017
Masamitsu Shibuya
President and CEO
JTB Business Travel Solutions, Inc.
ISO/IEC 27001 ISMS Certificate
JTB Business Travel Solutions, Inc. was officially granted ISO/IEC 27001 certification in November 2017 in order to ensure and improve information security maintaining the confidentiality, integrity and availability of information assets continually.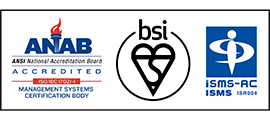 Certificate Standard
ISO/IEC 27001:2013 / JIS Q 27001:2014
Certificate Number
IS 680297
Scope of registration

JTB Business Travel Solutions, Inc.
Head Office & Sales Division
NBF Toyosu Canal Front 5-6-52 Toyosu, Koto- ku, Tokyo
135-0061 Japan

The Business Travel Management Business

The IT Solutions Business

The Meetings & Events Business

The Private Travel Business

Assessment organization
BSI Group Japan K.K.